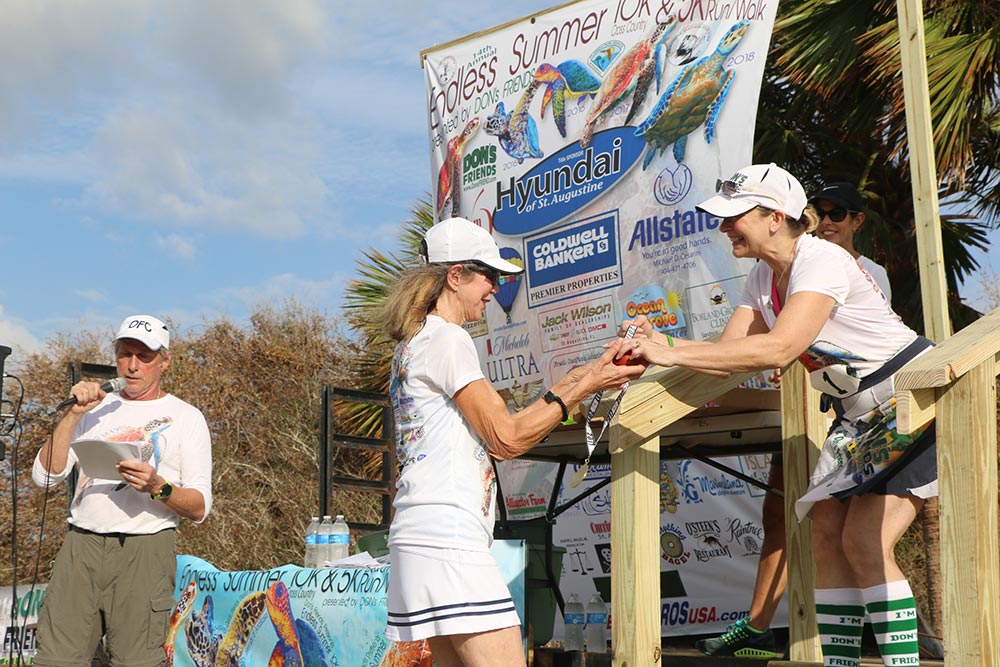 Endless Summer Run 10K & 5K
Race Information
Date: November 18, 2023
Start Time: 8:30am for 5K and 10K
Race Location: Anastasia State Park – 300 Park Rd St. Augustine, FL  32080 
FREE Park Entrance for runners and volunteers.
More Information on where to pick up your race packets as the race is closer.
Two Great Runs For Two Great Charities
Saturday, November 18th, 2023
Both the 10K and 5K SOLD OUT Early for 9 years in a Row!
So Please sign up early for 2023
2023 will be our 20th Annual Endless Summer 10K Cross Country and 5K Beach Run/Walk. Both the 10K and 5K have SOLD OUT 9 years in a row! These 2 Great Runs are presented by Don's Friends and benefit 2 Great Charities…Don's FRIENDS and Friends of Anastasia. The Event is hosted by Anastasia State Park, which is a BEAUTIFUL Ocean Front State Park located in St. Augustine, Florida. Over 4 Miles of PRISTINE Ocean Front Beach.
Anastasia State Park is an active Sea Turtle breading ground. Our very popular graphics for the Endless Summer Runs feature a New Sea Turtle graphic each year. Our Turtle Shirts are Very Popular. Each runner will receive a Performance Tech T-shirt featuring our full-color Turtle graphic. Runners also receive a beautiful bag ($25.00 value), a Finishers Medal and other goodies. We hope to make this year is our BEST EVER !!  See our RUN INFO Page for information on our 10K, 5K and our Virtual Run options.
Sign up today!